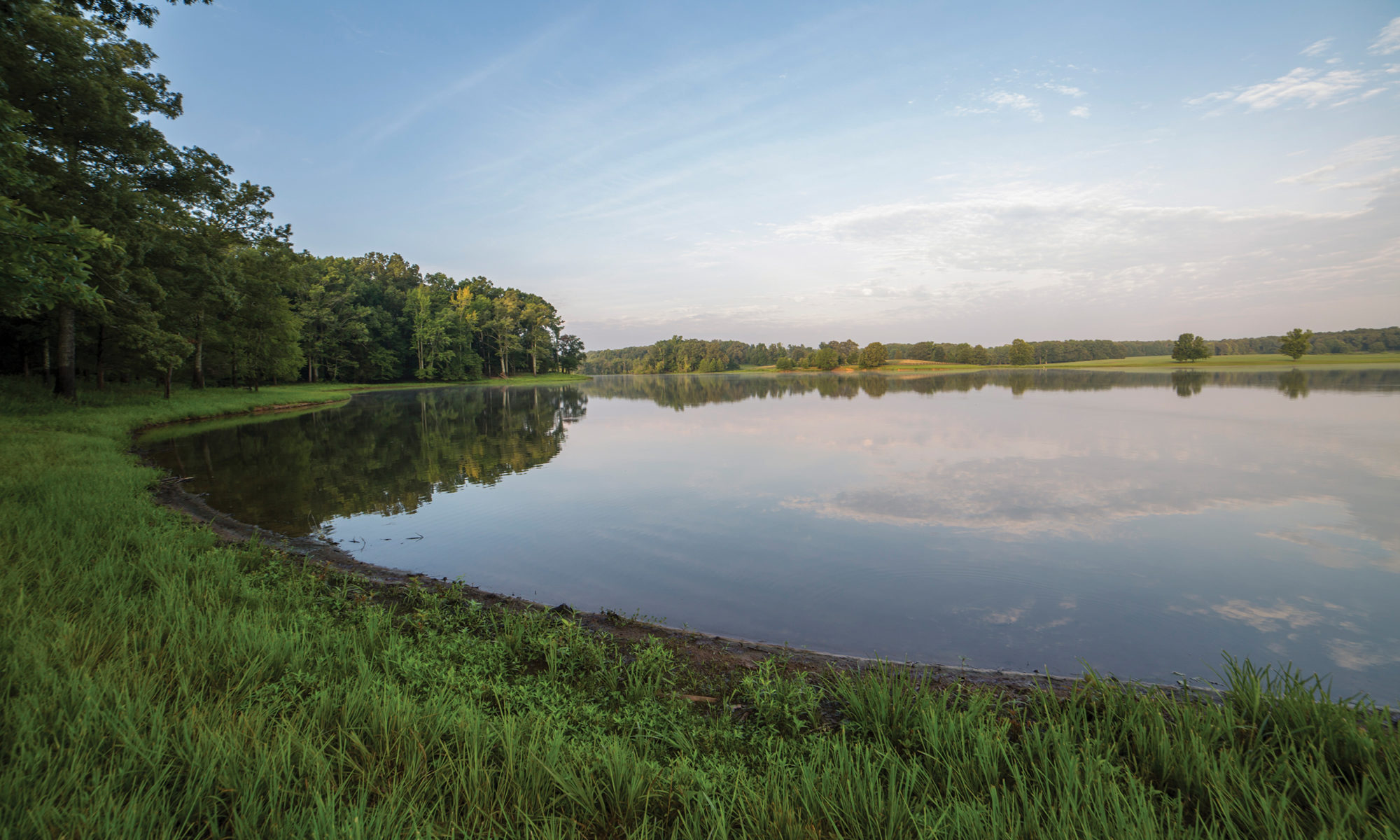 Education and workforce development are the deeper goals behind fun experiential learning at UT's Lone Oaks Farm
SKIP A ROCK ACROSS THE LAKE. Learn a little physics.
Turn over a larger rock by the creek. Learn about biology, soil, and micro-environments.
These lessons and many, many more are part of the experiential learning envisioned for youth who visit UT's Lone Oaks Farm in Hardeman County. Whether they stay the day, engage in an overnight adventure, or participate in a future 4-H camp, young people will discover firsthand the many fascinating intersections between science and our natural world. "In a world where youth spend their days on electronic devices, we strive to expose them to STEM experiences that will open their eyes to the importance of nature," says Ron Blair, director of Lone Oaks Farm.
Located in Middleton, about an hour east of Memphis, Lone Oaks beckons teachers, parents, and students alike. The 1,200-acre facility is being developed by the UT Institute of Agriculture and UT Extension into a world-class 4-H and STEM (science, technology, engineering, and mathematics) Education Center. Of course, that vision is expensive, but thanks to a historic agreement with Ford Motor Company, Lone Oaks is much closer to bringing the complete vision from drawing board to outdoor classroom.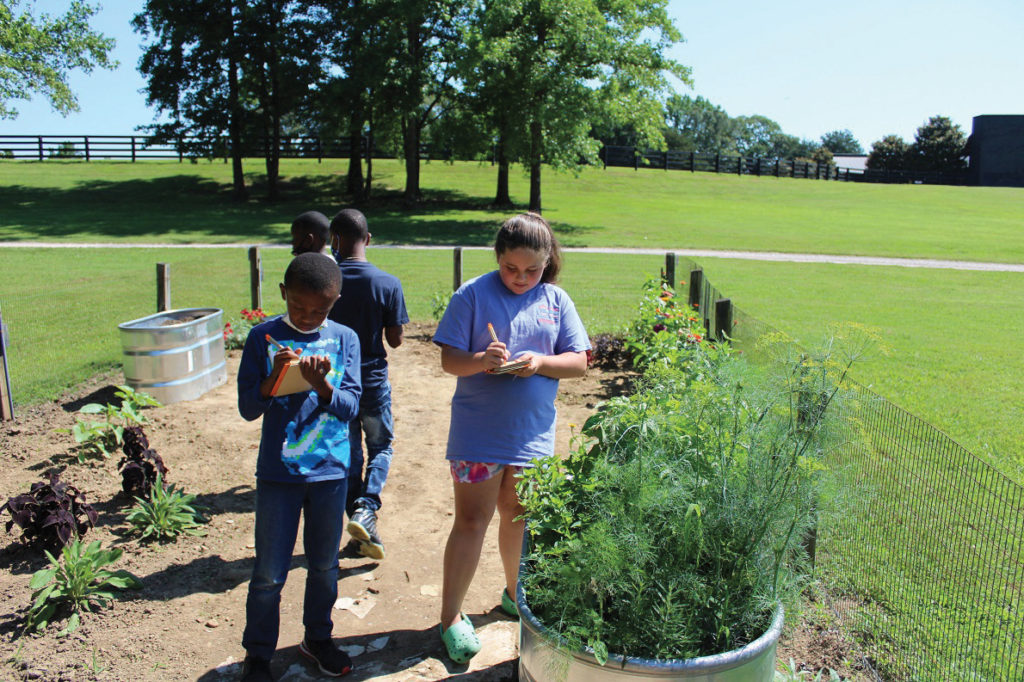 At the 2022 Memphis International Auto Show in April, Ford Motor Company and the Institute announced a pioneering partnership that will propel economic development, education, and conservation throughout the Mid-South. The two organizations inked a stream mitigation and restoration agreement that will restore the stream waters flowing through the University's Lone Oaks Farm while meeting the stream mitigation obligations for the development of Ford's BlueOval City, located in adjacent Haywood County. Programs at Lone Oaks already serve about 5,000 K-12 students each year, and the agreement will help expand the educational opportunities to many other youth. Knowing that future workforce needs in STEM fields are also growing across the region, the timing couldn't be better.
"Every year, UTIA provides valuable life skills as well as opportunities for STEM education to nearly 112,000 students across Tennessee," says UT System President Randy Boyd. "Ford's investment in Lone Oaks will ensure our 4-H programs will be able to expand STEM education to Tennessee students for years to come."
Carrie L. Castille, senior vice chancellor and senior vice president of UTIA, is proud of the strength of Tennessee's 4-H program, as evidenced by 7,216 4-H clubs, more than any other state in the nation. "We have a fabulous 4-H program and with this new support from Ford Motor Company, we will continue to be the best in the nation. The ability to offer overnight educational programs and daily STEM activities at Lone Oaks in West Tennessee is a tremendous enhancement to the region's educational opportunities."
The Clean Water Act of 1972 requires that any impact on streams and wetlands from development projects, such as buildings and roads, be offset by restoring and permanently protecting an equivalent amount of habitat elsewhere. The size of the BlueOval City project required Ford to invest in a significant stream restoration project, and UTIA was prepared to meet this need through a restoration project at Lone Oaks Farm. This unique agreement allows Ford to meet its regulatory requirements while also benefiting the entire region through funding STEM education and 4-H youth development at Lone Oaks—opportunities that might, in turn, prepare youth to be future BlueOval employees, as well as a well-equipped workforce for other science, technology, engineering, and mathematics opportunities.
The agreement totals $16.5 million, which covers the construction cost of restoring some 20,000 feet of streams on the Lone Oaks property while also providing long-term financial sustainability for Lone Oaks's educational programs. Residual funds from the project will be invested by the UT Foundation to support education programs at Lone Oaks Farm in perpetuity.
"At Ford, our goal is to create a positive impact on people and the planet," says Bob Holycross, vice president of sustainability, environment, and safety engineering for the motor company. "We're proud to enter into this innovative partnership with the University of Tennessee that will help restore and protect the streams and wetlands at Lone Oaks Farm and create educational opportunities that will inspire and benefit future generations. This is just one way we can fulfill our purpose to help build a better world."
The project involves many other partners, including the Tennessee Wildlife Federation and the West Tennessee River Basin Authority. The Tennessee Wildlife Federation is a nonprofit that advances conservation in Tennessee through advocacy, education, and on-the-ground conservation projects, including stream and wetland restoration. The Tennessee River Basin Authority is an independent unit of the Tennessee Department of Environment and Conservation charged with managing rivers, streams, lakes, and other water issues in West Tennessee. The authority is responsible for the design, engineering, construction, and monitoring of the Lone Oaks stream restoration.
"In addition to restoring the stream, this partnership will create additional opportunities for our UT Extension professionals to develop STEM programs with an emphasis on workforce skills and preparation for higher education," says UT Extension Dean Ashley Stokes. "As the needs of employers in the region and state change, we are tailoring our educational programs to match those needs."
"The vision for Lone Oaks Farm includes introducing young people to agriculture and conservation through STEM education programs. We are extremely excited to partner with Ford and support both their sustainability goals and the University's and community's education goals," says Ben West, director of strategic partnerships with UTIA. "This investment will provide quality, experiential education programs for students throughout the region for decades to come."
---