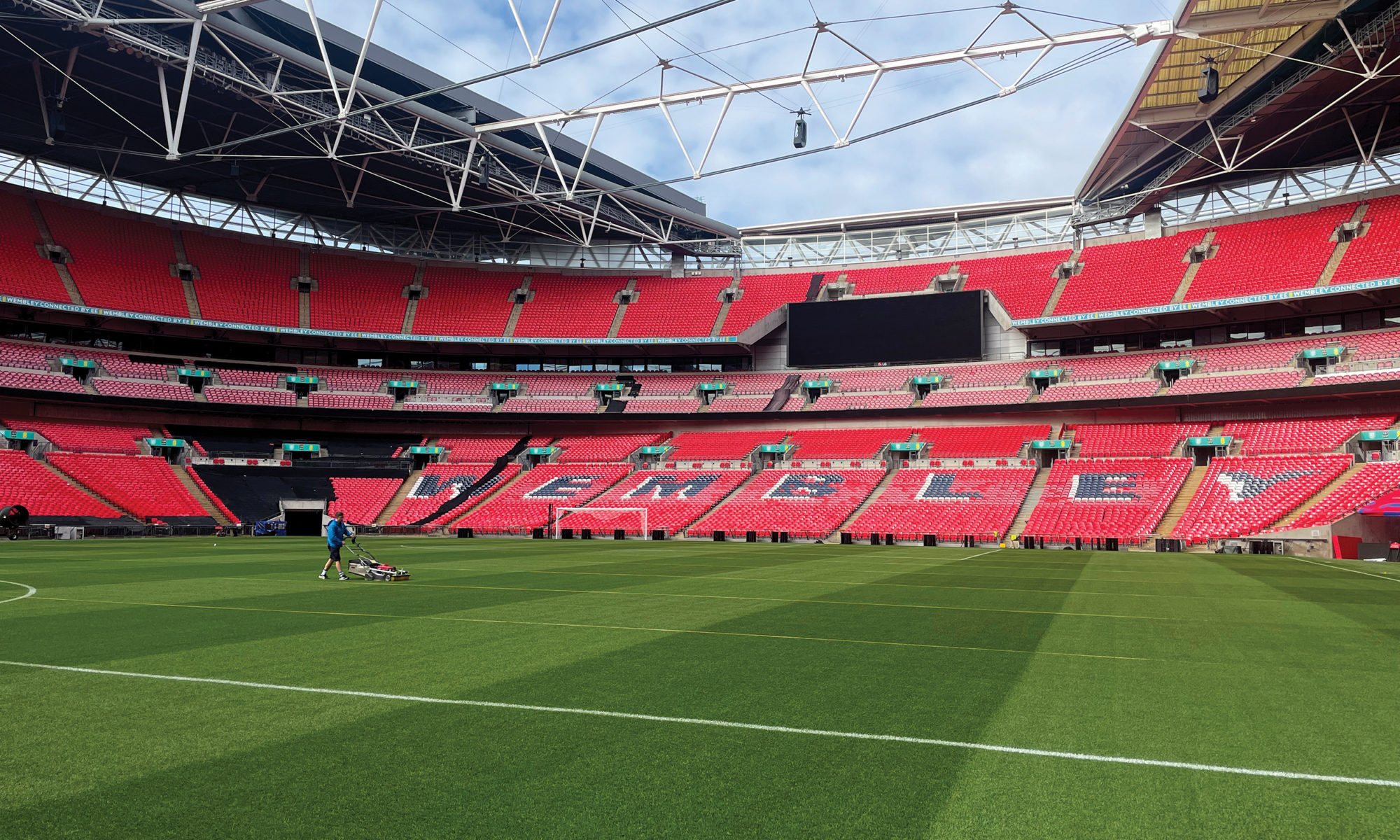 In soccer terms, the UT Institute of Agriculture just scored a winning goal.
Led by John Sorochan, the Distinguished Professor of Turfgrass Science and Management in the Department of Plant Sciences, a team of UTIA faculty and staff will oversee the research for designing, installing, and managing the stadium fields and training fields for the 2026 FIFA World Cup. A turfgrass team from Sorochan's alma mater, Michigan State University, will collaborate on the research.
THE 2026 WORLD CUP will be the largest and most unique in FIFA history. It will include forty-eight national teams (an increase over the typical thirty-two), use sixteen stadiums and as many as one-hundred-fifty practice fields, and stretch across four time zones and three climatic zones.
The World Cup is held every four years. This year, it is being held in Qatar. The 2026 tournament, which will be the twenty-third FIFA World Cup, will be hosted by "United 2026," a partnership of the United States, Mexico, and Canada. It will be the first World Cup since 2002 to be hosted by more than one nation and the first ever World Cup to be hosted by more than two nations.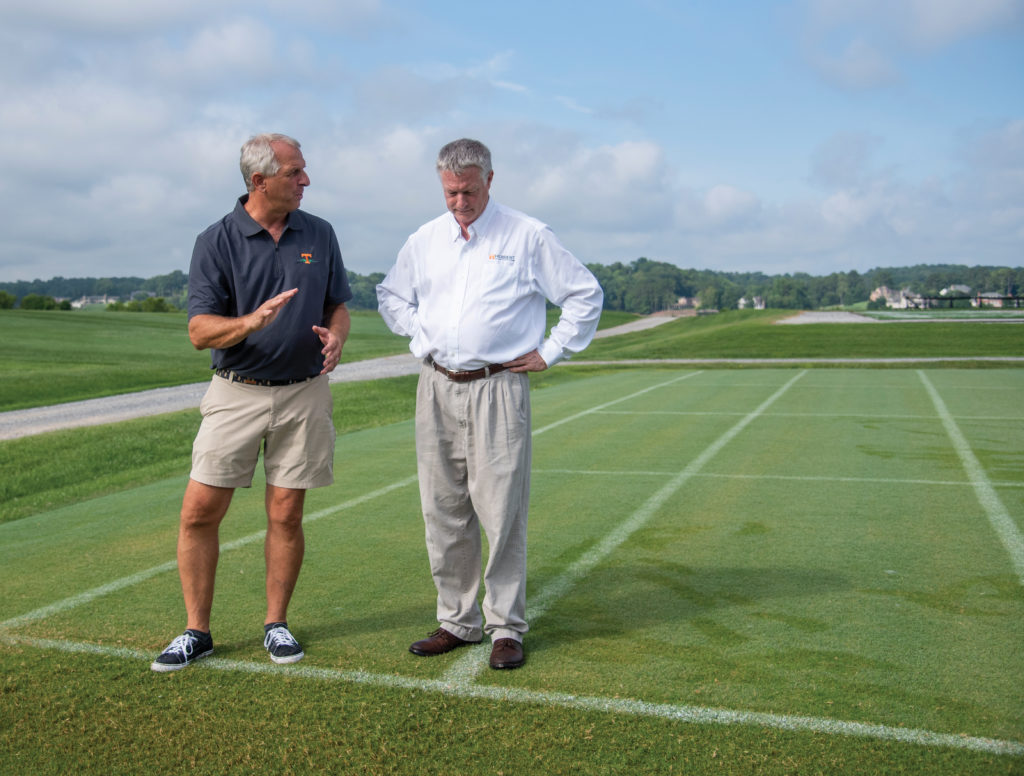 For UTIA, securing the FIFA contract is a tremendous honor, as well as a tremendous score.
"Our brand will be seen worldwide," Sorochan says. "Soccer is the most watched and largest participant sport in the world, and the FIFA World Cup is arguably the most coveted sporting event on the planet. The 2018 men's FIFA World Cup, hosted by Russia, was estimated to have had 3.8 billion viewers. Half of the world watched."
In the early 1990s, as an undergraduate at Michigan State University, Sorochan helped a team of MSU turf experts prepare the Pontiac Silverdome near Detroit as a 1994 World Cup venue. Detroit was one of nine US venues to host World Cup games that year, and the Silverdome was the first indoor stadium used in a World Cup.
"I remember Michigan State officials saying that hosting World Cup games brought more recognition to the university than everything else combined, including one-time student Magic Johnson," Sorochan says.
Sorochan's coprincipal investigator on the 2026 World Cup project is his longtime friend and colleague John Stier, the associate dean in the Herbert College of Agriculture and a UT professor of plant sciences. Stier was a research assistant on the Michigan State team that worked on the 1994 World Cup.
Stier agrees that landing the FIFA contract is a major coup for UT: "In 2100, when UT looks back at the ten game-changing events of the century for the university, this is going to be one of them."
Perfect Team for the Job
Even before the 2026 World Cup project, Sorochan was the go-to guy for creating safe, sustainable, and attractive playing surfaces for major sporting venues.
His good friend Alan Ferguson, now the senior pitch management manager for FIFA, had already asked Sorochan to serve as a special advisor for FIFA.
Sorochan is also the NFL Players Association's representative and advisor for playing surfaces. He has been the education advisor for the Major League Baseball Field Managers and Major League Soccer Field Managers, as well.
In addition to Stier, Sorochan has assembled a highly qualified group of UT faculty and students for the World Cup work.
Jim Brosnan, a plant sciences professor and director of the UT Weed Diagnostics Center, will be working on FIFA research with graduate students. Brosnan's research focuses on controlling unique and problematic turfgrass weeds, particularly those resistant to herbicides.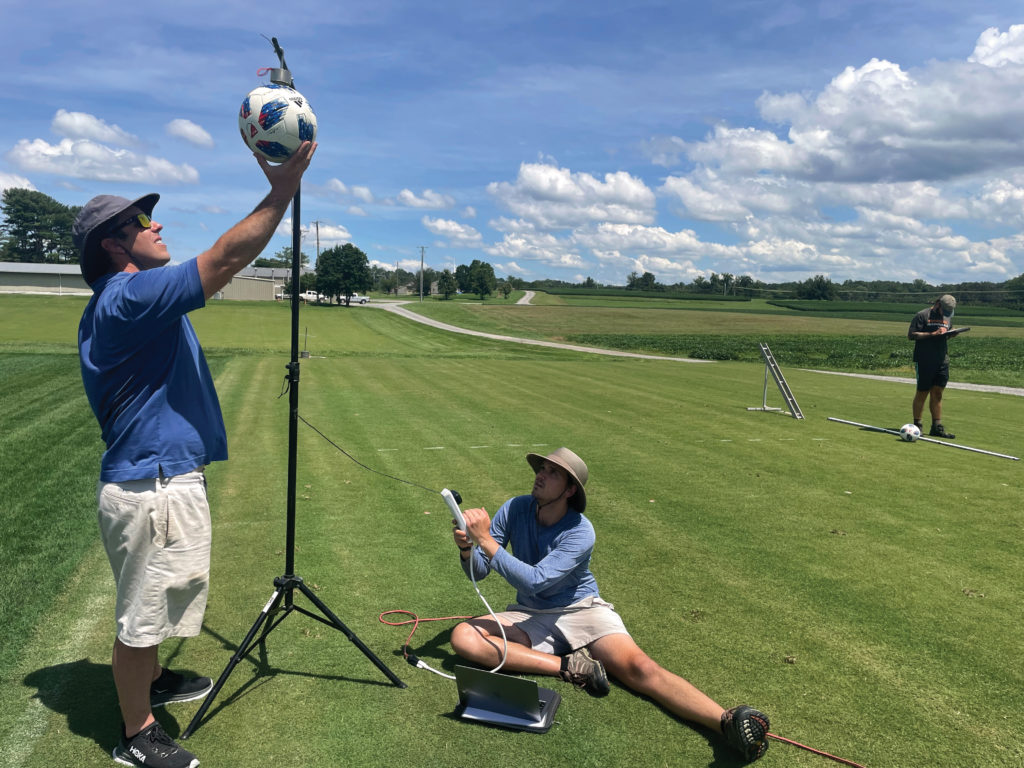 Sorochan and Brosnan were key in forging a $3.4 million partnership with Astroturf that led to the construction of the UT Center for Athletic Field Safety (CAFS) at the Plant Sciences Unit of UTIA's East Tennessee AgResearch and Education Center. CAFS, which opened in 2011, compares natural grass playing surfaces to synthetic surfaces to improve athletic performance, reduce injuries, and develop longer-wearing fields.
Kyley Dickson, a researcher and the associate director at the Center for Athletic Field Safety, will be Sorochan's right-hand assistant.
Sorochan and Dickson co-own Summit Performance Testing, LLC, a company that uses its own patent-pending technology: a portable device with a 3-D printed foot that can be outfitted with different cleats to simulate a player's foot impacting the playing surface. By measuring how athletes' bodies will interact with a field, the researchers can predict the performance, playability, and safety of the playing surface.
Brandon Horvath, a turfgrass teaching and research professor, will be involved in FIFA research with graduate students.
Also helping with FIFA research: Taylor Williams, who recently completed his master's degree and now works as a research associate; Rhys Fielder who is finishing his master's degree; and Conlan Burbrink, a UT alumnus who just completed his master's degree at Texas A&M and will be returning to UT in August to start his doctorate. Sorochan said Burbrink will attend 2022 World Cup games this fall to collect data. (In 2020, as a UT senior, Burbrink helped prepare the field in Miami's Hard Rock Stadium for Super Bowl LIV.)
The MSU team is led by Sorochan's former professor, John N. "Trey" Rogers III. Rogers is a turfgrass management professor in MSU's Department of Plant, Soil, and Microbial Sciences.
Additional students at both UT and MSU will join the research teams starting this fall.
Carrie Castille, senior vice chancellor and senior vice president, sees the impacts the FIFA project may have on student recruitment and career preparation. "It's an exciting time for our current students and our prospective students. There will be many opportunities over the next few years for them to engage in this FIFA project."
Team members will network with city stadium and sports field managers to ensure there are feet on the ground at every venue.
The Venues
Twenty-three cities from three nations bid to host the 2026 World Cup games. The sixteen chosen cities announced in June are: Atlanta, Boston, Dallas, Houston, Kansas City, Los Angeles (So-Fi Stadium), Miami, New York/New Jersey, Philadelphia, San Francisco/Bay Area, and Seattle in the United States; Toronto and Vancouver in Canada; and Guadalajara, Mexico City, and Monterrey in Mexico.
"Now that the cities have been awarded, FIFA wants our UT-MSU team to visit each one," Sorochan says. While 2026 may seem a long way off, he says the work is already two years behind because of COVID-19.
Since venues must meet FIFA's requirements for crowd capacity and pitch (field) specifications, Sorochan says there is some sort of modification that will have to be done in every stadium.
All of the US cities are using NFL stadiums. Those football stadiums, which seat 65,000 to 95,000, meet FIFA's crowd capacity requirements while American soccer stadiums, which seat 25,000 to 30,000, do not. Some of the stadiums' seats will have to be removed to enlarge the playing surfaces, however. For international competition, FIFA fields are 110 to 120 yards long and 70 to 80 yards wide while NFL fields are 120 yards long and 53.25 yards wide.
The Mexican cities will use their soccer stadiums; in Canada, Toronto will use its soccer stadium and will have to increase its seating capacity; Vancouver will be using its Canadian Football League stadium.
All of the World Cup fields must be real grass. That means stadiums that have artificial turf will have to be temporarily converted to real grass. Indoor stadiums will have to install grow lights, and all stadiums are expected to have a vacuum system to maintain desirable soil conditions for the grass.
Even some of Mexico's regulation-size grass soccer fields will have to be renovated to meet FIFA standards.
In addition, all stadiums will need LED advertising screens at ground level around each field's perimeter.
While host cities will have to foot the bill for stadium renovations, the costs will be worth it. The World Cup is a monstrous money-maker.
Prior to the host cities announcement, UT's Boyd Center for Business and Economic Research prepared a report that estimated four World Cup games held in Nashville would have created 5,469 annualized jobs and would have generated nearly $694.6 million for Tennessee's economy.
Even without games held in Nashville, Tennessee will reap both business and reputational benefits from the 2026 World Cup through UT's involvement with the field research.
More Than Just Grass
Building soccer fields isn't something that can be sketched out on paper or computer; it's a get-your-hands-dirty job that includes cultivating grass, designing installation systems, and testing, testing, testing.
As part of the contract, FIFA is funding all the research and overhead expenses and is also paying for the construction of two 4,000-square-foot climate-controlled buildings for turfgrass research—one at the Plant Sciences Unit at the East Tennessee AgResearch and Education Center in Knoxville and an identical one for MSU in East Lansing, Michigan.
Over the next three years, the UT and MSU teams will grow test plots of grass, experiment with ways of installing the grass over different surfaces in varying conditions, and perform experiments to make sure the fields provide optimum playing and safety conditions for the athletes.
With venues strewn across three countries, different grass species must be used.
Sorochan says they are looking at four or five potential species and multiple varieties of those species, including Kentucky bluegrass, a cool weather grass that fills in its own divots; bermudagrass, Paspalum, or zoysiagrass, which are warm-season grasses that tolerate heat, shade, and traffic; and perennial ryegrass, a cool-season grass used on many fields in England.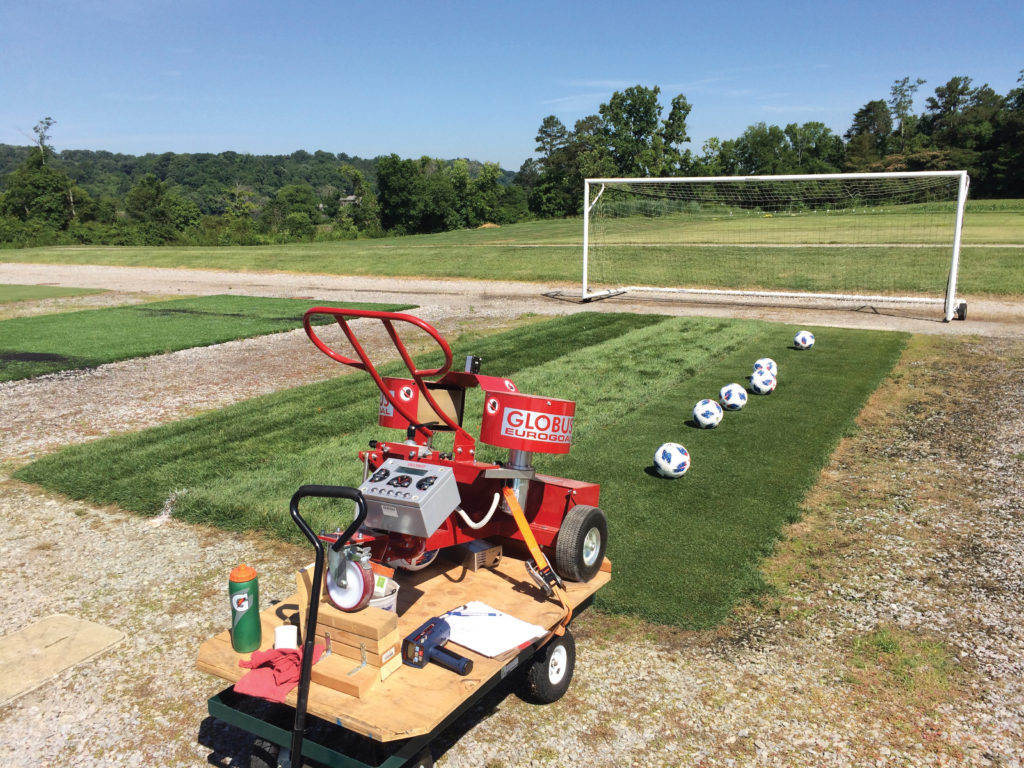 The idea is to grow sheets of sod, 50 feet long by 3 feet wide, on plastic or on a hybrid natural grass and synthetic turf-like system that can be rolled up and moved to fields. Refrigerated trucks may be used to transport cool-season grasses to indoor stadiums in hot weather cities.
Soccer fields are built with subsurface layers for drainage and irrigation topped by gravel and a sand root zone layer.
Once they have some prototype fields, the researchers must make sure they perform similarly for play.
They'll drop soccer balls and measure the bounce to ensure the reaction is comparable on each surface. They'll shoot balls across the test fields at the same speed and angle to ensure they bounce and roll consistently and travel the same distance.
Sorochan and Dickson will use their patent-pending device to simulate how a 168-pound athlete—the average size of the athletes in the last World Cup—will interact with each surface.
'The Highlight of My Whole Career'
While the 2026 World Cup project is a major contract for UT, it is a professional capstone for members of the UT turfgrass team—and a dream come true for those who are soccer enthusiasts.
"Soccer is in my blood," says graduate student Fielder, who is a dual citizen of the US and Great Britain. "Some of my earliest childhood memories involve waking up early on the weekends to watch English Premier League games with my dad. I have been a lifelong supporter of the Arsenal Football Club, the United States men's national team, and the England men's national team. With soccer playing such a large role in my life, I knew I wanted to try and find a career that involved the sport. This led me to switching my major to plant sciences with a concentration in turfgrass management."
Fielder has done internships with the New York City Football Club and the Arsenal Football Club.
"Now I am honored to play a part in the largest and greatest sporting event in the world," he says.
Sorochan plans to be at World Cup games every day. If possible, he'd love to watch a game in each venue.
"For research, this project will be the highlight of my whole career," he says. "Knowing that half of the world is watching something you have been a part of, it's hard to imagine the emotion that I'm going to feel," Sorochan says.
"The opportunities in turfgrass science, for myself and our students, are endless. FIFA is a tremendous one. I have the best job in the world."
---