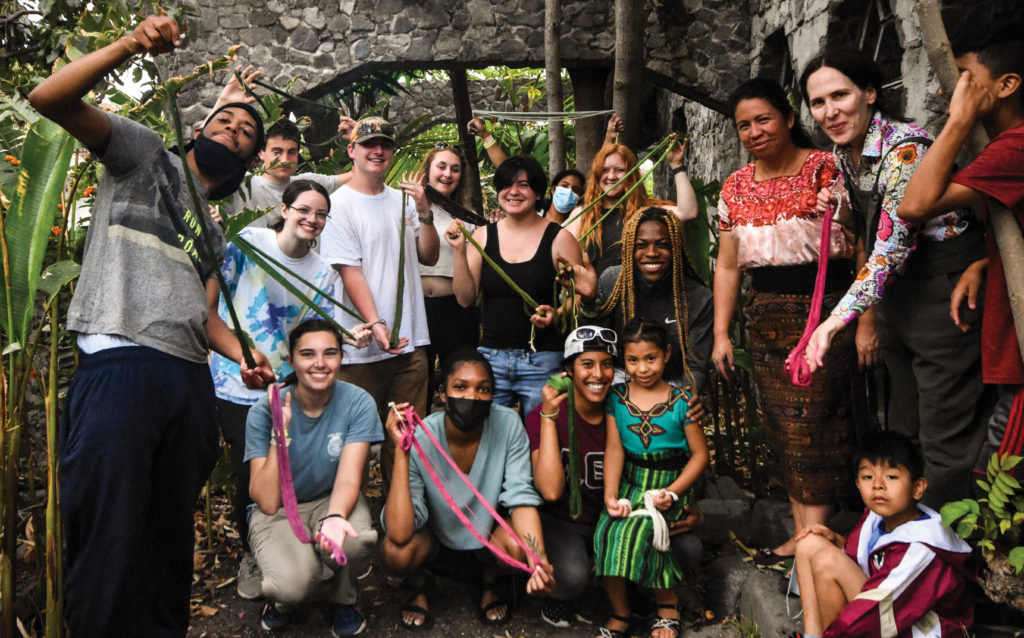 Students from diverse populations and backgrounds find common ground in Smith Center immersive experiences
From making study abroad trips more accessible for a variety of student groups to fostering a recent graduate's passion for international work, the UT Institute of Agriculture is a place where global perspectives are growing and creating change.
In a course titled Agriculture and Natural Resource Challenges in Guatemala, students travel to Guatemala for a weeklong immersive experience. This course is offered by the Smith Center for International Sustainable Agriculture, and through it undergraduates learn about agriculture and the country's existing environmental challenges. By working with rural communities, students engage with various agriculture operations across different environments while also learning about the social and economic issues that are exacerbated by global climate trends.
"Getting to see firsthand the soil being made at the tops of volcanoes, then how that influences the rich agricultural lands below where a huge diversity of foods are grown creates a spectacular learning environment," explains Dave Ader, Smith Center faculty leader for this course.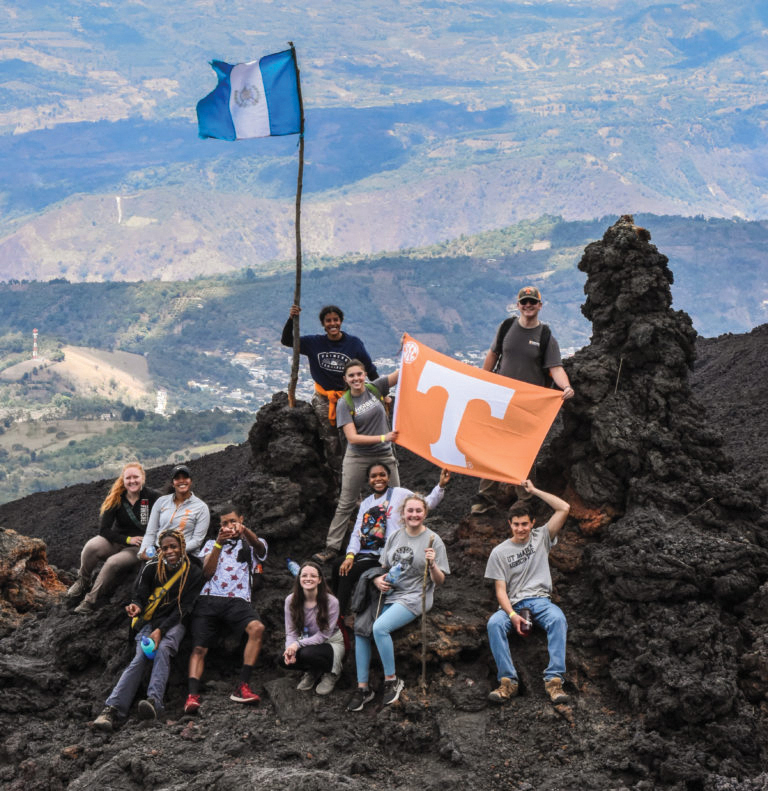 Making studying abroad experiences accessible to all students is essential to fostering greater global engagement at UTIA. "We want every student to have the ability to engage in international study," says Senior Vice Chancellor and Senior Vice President Carrie L. Castille. "Agriculture is a global enterprise and one of great complexity. We are committed to preparing students who will thrive in this interconnected industry." Last spring's trip to Guatemala involved a diverse cohort of students, with several participants from underrepresented student populations. "Our group really made the difference in having a successful trip," says Damon Conway, a junior in forestry, wildlife, and fisheries. "We all come from different backgrounds and have different perspectives, which makes it more fun." Adriana Johnson, a freshman studying wildlife health, expands, "We all come from different situations, so how you see the world depends on your background."
Ashlyn Anderson is a 2022 graduate who specialized in food security and public health nutrition as part of UT's College Scholars Program. She learned about the interconnectedness of our global agri-food system and how individual interests fit into that story through her own study abroad experiences with the Smith Center. Anderson first began to engage with international agriculture when she traveled to Guatemala in 2019.
"It was a fantastic, growth-oriented trip, and I knew at the conclusion that it wasn't the only time I wanted to go to Guatemala. I was convinced that a week was not long enough, and I started searching for an opportunity to go back," Anderson says about her own experience on the trip. That experience led to her interest in the UTIA Milam Scholars Program. "Sara Mulville was hugely influential on that trajectory and told me about the Milam Program."
The Milam Family Opportunity Endowment Program provides funding for experiential international opportunities in Guatemala for students and faculty to work on world challenges related to clean water, food resources, health, and nutrition. Anderson was able to return to Guatemala as a Milam Scholar for two months the summer following her trip in 2019.
Anderson felt passionate about the community garden she originally worked on at Chicacao and spent the summer working to expand the garden as well as facilitating health- and nutrition-focused community discussions. Centering the community's existing knowledge guided her work. "A big undercurrent of my experience was that the community is already the expert and has all the knowledge about what they need. My purpose was to lend a helping hand and foster the ongoing community work with the garden," she explains.
Anderson concluded her undergraduate experience with a January 2022 study abroad trip to Mexico led by Carlos Trejo-Pech, an associate professor of agribusiness finance in the Department of Agricultural and Resource Economics. This trip focused on the coffee production industry in Mexico and involved learning about every aspect of the production process. This included engaging with multiple coffee producers, ranging from small scale all the way up to larger cooperatives of organic farmers. Students also visited Colegio de Postgraduados de Ciencias Agrícolas (ColPos), where they met professors and engaged with the science of coffee production.
"The trips that I've been on through the Smith Center have been incredible, enriching, and they increase students' awareness of how their interests and degrees fit into this story," Anderson says about the impact of the experiences. "None of us majored in anything related to coffee production, but we all ended up really interested in how we fit into this story about coffee in Mexico. That brought to light that we all have something to offer; we all bring something to the table."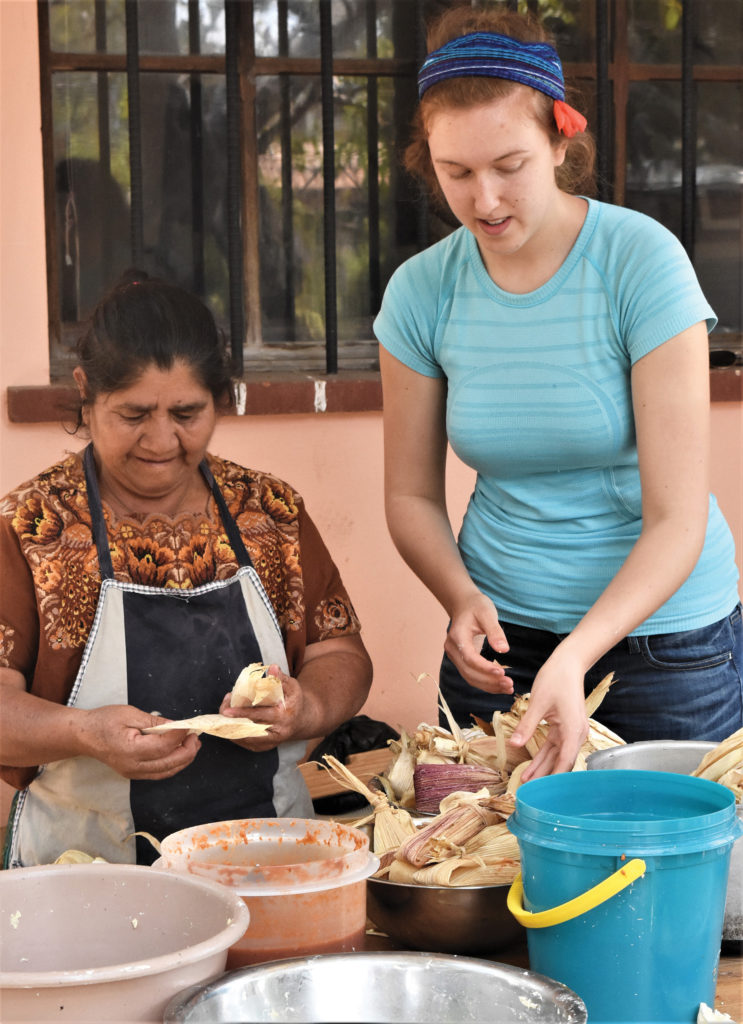 The international experiences that Anderson was able to have because of the Smith Center led to her next chapter. She was chosen for a 2022–2023 Fulbright student award through the Fulbright US Student Program. She will be teaching English in Mexico through the US-Mexico Commission for Educational and Cultural Exchange and immersing herself in the community with a personal project that she hopes will build on her experience with community gardens.
"That experience in Guatemala informed my desire to go to Mexico in the first place and to a Spanish-speaking country for the Fulbright. It also built my confidence in my own skills to know that I can be placed in a community and can foster mutual understanding there. And to be able to offer parts of myself, but also be willing to learn from my students and my community partners," Anderson says.
Global engagement enables students, faculty, and staff at UTIA to reimagine how the education taking place on our campus fits into this greater, global story of agriculture and food. The Herbert College of Agriculture and the Smith Center are working toward the goal of helping more students from a variety of backgrounds participate in immersive learning experiences abroad. This kind of international collaboration continues to grow UTIA's ability to gain global insights and share Real. Life. Solutions.
---