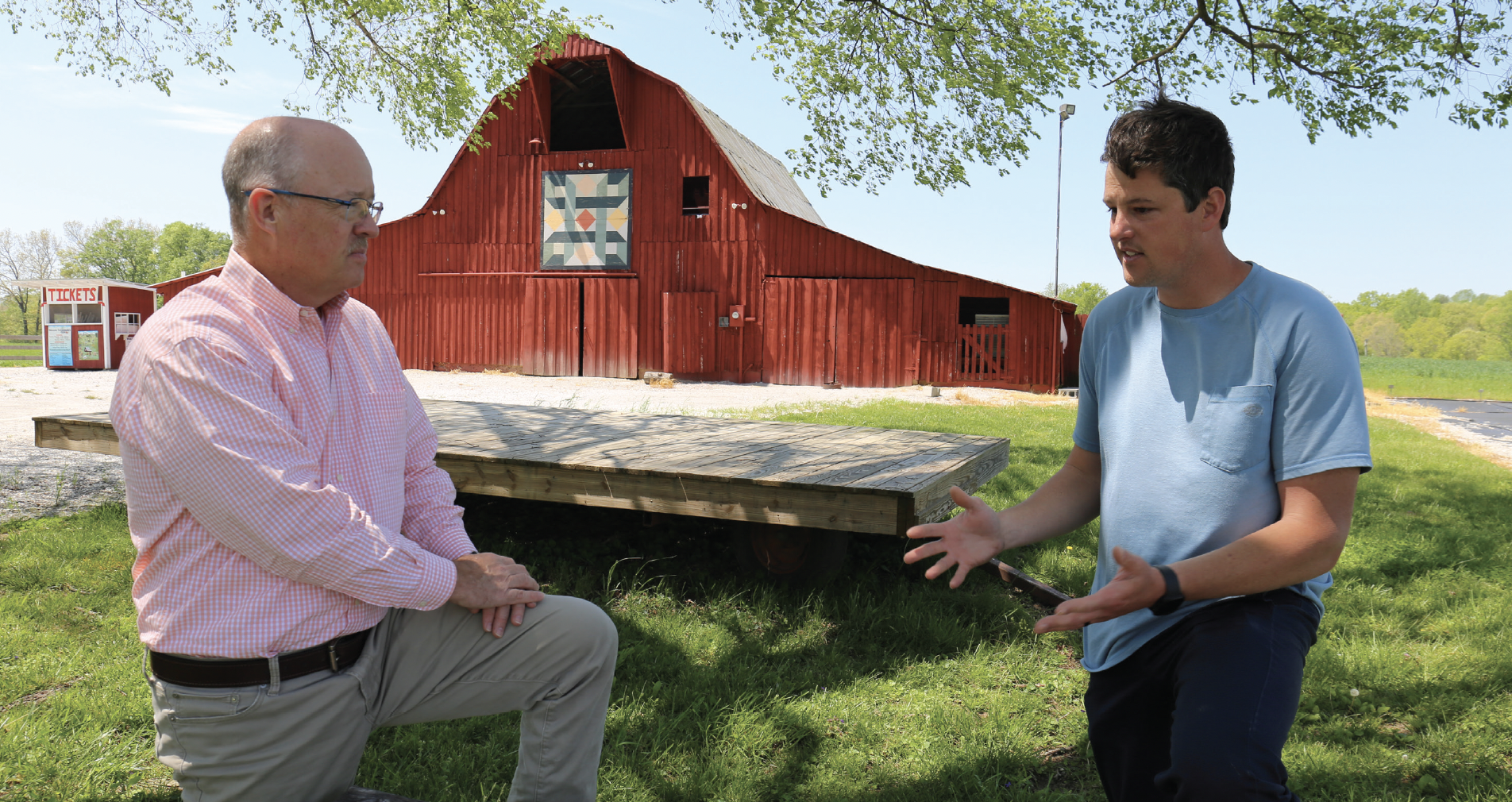 Center for Profitable Agriculture Celebrates a Quarter Century of Partnership with Tennessee's Farm Families
Andrew Dixon, co-owner and farm manager of Grandaddy's Farm in Franklin County, says he first encountered the specialists with the Center for Profitable Agriculture twenty-three years ago.
"My mom and dad were looking for a way to add some farm income and diversify our family farm operation, and the first value-added enterprise we researched with the center was packaging corn for squirrel food. We then looked at bundling corn stalks for fall decorations, and we even looked at more added value by packaging the corn stalks for retail. From that, on-farm sales and agritourism got our interest."
When they were considering yet another, much bigger venture, the Dixon family found the center a ready partner. "It was clear that the center would be our first contact when we were looking to really expand our agritourism venture," Dixon says. "We knew from experience that consulting with the folks at the center could save us a lot of stress, and a lot of money."
Center director Rob Holland still remembers his visit to the Dixon farm in spring 2000. "I was brainstorming various ideas at the kitchen table with Steve and Karen when Andrew and his siblings got off the school bus and joined the conversation. The next generation of Dixons was an important part of the discussion from the beginning and that paved the way for our future connection with them and their agritourism venture called Grandaddy's Farm. Agritourism was not as prevalent then as it is today, and Andrew and his family wanted to carefully plan the operation and evaluate its feasibility, practicality, and profit potential."
The long ties the Dixons have with the Center for Profitable Agriculture reflect the center's own history. In 2023, the center, which now is a partnership operation of UT Extension and the Tennessee Farm Bureau Federation, is marking its twenty-fifth year of providing information, resources, training, and dedicated staff to help Tennessee farm families analyze, develop, and market value-added products and services.
The word profitable in the center's name connects directly to the biggest challenge farmers face, whether they are lifelong farmers or new, large or small, and regardless of operation type, and that is to be profitable.
Ray Humberd, who served as the center's first acting director while also serving as the associate dean for UT Extension in 1998, says the center was established in response to numerous requests for assistance from Tennesseans who were asking for educational information about initiating an agri-business or marketing an agricultural product. "The center began with three specialists and a focus on one-on-one consultations with farmers to analyze the ideas they had," Humberd says, adding that he has witnessed tremendous growth since its inception.
Today, the center has ten full-time positions with funding from Extension and numerous external sources including partnerships and grants. "The center's focus now reaches far beyond economic analysis," says UT Extension Assistant Dean Justin Rhinehart. "Specialists in the center have also provided leadership to many programs and special initiatives such as the Tennessee AgrAbilty project, Dairy Business Innovation Initiative, Value-Added Beef Project, Farm and Ferment, Farmers Market Boot Camp, and Tennessee Sustainable Agriculture Research and Education."
Tennessee agriculture has changed in the past quarter century and many farms now sell directly to customers or are trying other business ventures. The center is there to assist farm families with value-added farm ventures, from consulting on farmers markets to e-commerce and social media workshops. Other changes since the center started in 1998 include the growing interest by consumers in buying local and development and many successes of Tennessee's agritourism industry.
"Value-added products and services have made a difference to the sustainability of many family farms in Tennessee," says Keith Carver, UTIA senior vice chancellor and senior vice president. "We are proud of how the center has been there as a partner and resource for them in expanding their operations. The agritourism ventures that have been launched are notable in another way, as well, and that is for the opportunities they offer to people from all walks of life to engage in agriculture and grow their appreciation of it and its importance in Tennessee."
In 2002, the Tennessee Farm Bureau Federation joined with UT Extension to support the center's operations. The teamwork unites the considerable resources and abilities of both organizations to serve entrepreneurial minded farmers.
"We appreciate the partnership between the Center for Profitable Agriculture and the Tennessee Farm Bureau. The center makes a positive difference by assisting and adding value to entrepreneurial farm operations.
We are grateful for the center's impact and are optimistic their work will continue to enhance farm income and rural opportunities for Tennesseans," says Eric Mayberry, president of the Tennessee Farm Bureau Federation.
Agritourism's economic impact tops $50 million every year in Tennessee, and nearly two million people visit these operations. Ken Oakes of Oakes Farm in Knox County sees a share of them. The farm is a popular agritourism destination for its corn maze and pumpkin patch. Oakes says, "The Center for Profitable Agriculture has certainly presented us with a lot of opportunities to see different things that other folks are doing around the country, and bringing different ideas to us, and ideas for how best to operate the business."
Former Tennessee Commissioner of Agriculture Dan Wheeler served as the center's first full-time director from 2002 to 2007 and says he considers his time with the center as one of the highlights of his career. "I observed firsthand the recruitment and development of a highly dedicated and capable group of professionals. The primary business of the center is helping budding entrepreneurs successfully pursue and develop their aspirations and turn them into realities. It has been exciting to watch how the center has helped farm families successfully pursue and develop their aspirations and turn them into realities," Wheeler says. "I've seen that happen on numerous occasions, and I look forward to an even brighter future for the center and the valuable impact that will result from its operations for farmers across our state."
Producer ingenuity and center expertise have created multiple successes and transformed many operations in the center's first twenty-five years. Center staff and supporters are confident more successes lie ahead—ones that will make a difference to the future of Tennessee farms and through them, help to sustain agriculture as Tennessee's top industry.
Rachel Painter (right), Extension specialist with the Center for Profitable Agriculture, with Adrienne Smith (left) and Savanna Hobbs of Rainbow Roots Floral of Maryville, Tennessee. The Center assists value-added agricultural producers, including cut flower farmers, explore marketing strategies and develop a marketing plan for their operation.

A beautiful rose grown at Rainbow Roots Floral.

A row of poppies grown at Rainbow Roots Floral.
---