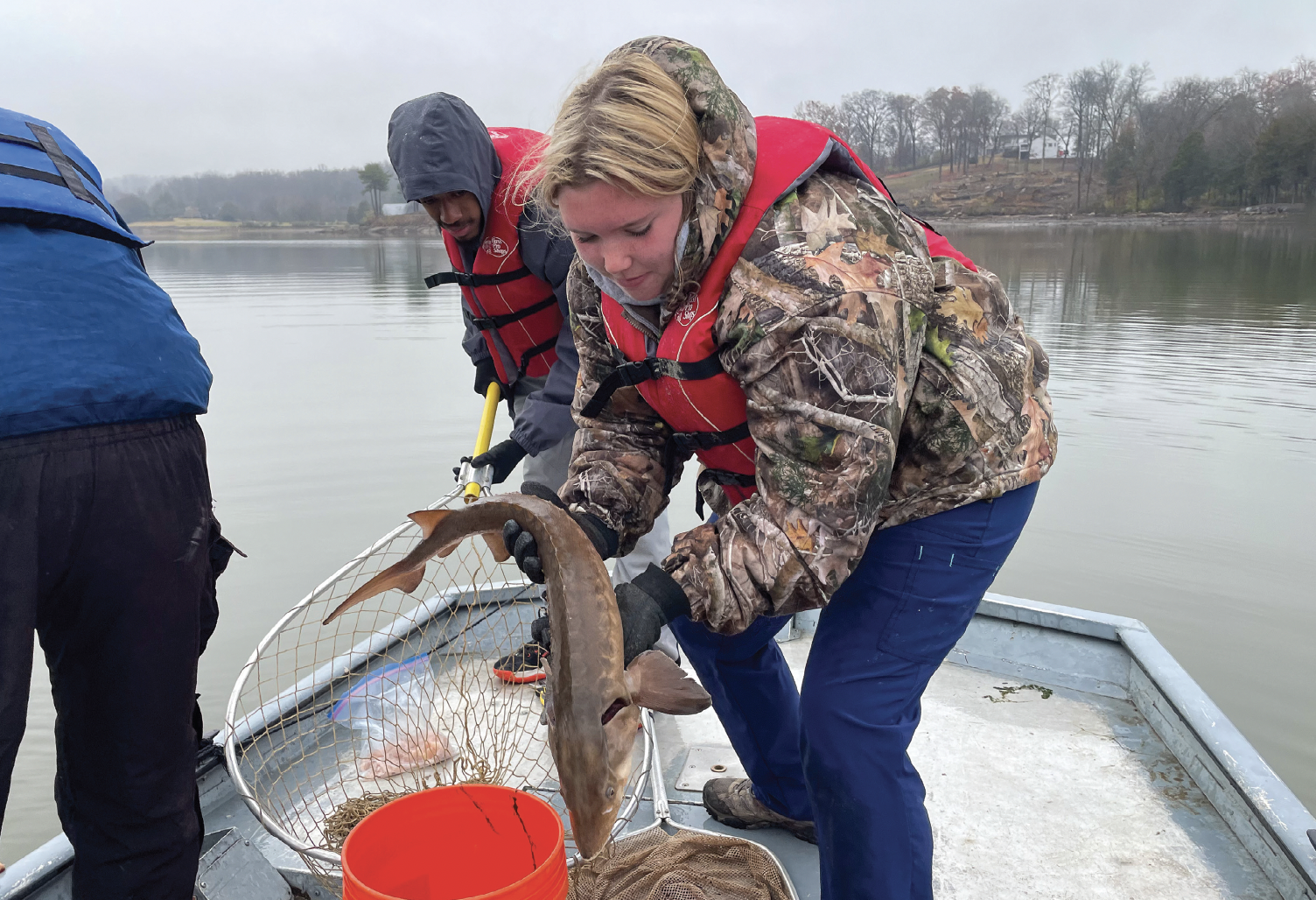 Expectations Are High for New School of Natural Resources
Wildlife and Fisheries Science senior Ashlyn Smith says she senses greater learning opportunities for herself and other students because of her program's elevation to the new UT School of Natural Resources (naturalresources.tennessee.edu).
"Having a natural resources school shows this is what we are," Smith says. "That we are a school that includes forestry and natural, native wildlife, but also it brings more visibility for AgResearch and Extension. That new visibility and new potential for incoming faculty and staff and diverse research just means more learning opportunities for me as a student."
Smith is one of more than 360 undergraduate and graduate students enrolled in programs in the School of Natural Resources, which formally launched on January 1, 2023. The Department of Forestry, Wildlife and Fisheries achieved school status toward the end of 2022 when the UT Board of Trustees and the Tennessee Higher Education Commission approved the change, making it the first school in the Herbert College of Agriculture and UTIA.

The school currently offers bachelor's and master's degrees in forestry and wildlife and fisheries, a master's program in forest business, and a doctoral degree in natural resources. Standard class activities range from felling trees to catching and sampling fish to developing long-term management plans for public and private lands.
Stepping out of the orthodox classroom draws many students to the school's programs, including wildlife and fisheries 2022 graduate Christopher Fisher. "I was not doing the same thing day in, day out. I still got that science aspect that I love, and I got to be outside."
Tara Skiba, forestry master's student and research assistant, has a ready analogy about the unparalleled experiential learning opportunities the school offers to students. "It's a mix of college education, but also trade school, where you have those hands-on skills you can learn and apply every day."
The school encompasses academic programs in forestry, wildlife, and fisheries along with the Centers for Renewable Carbon, Native Grasslands, and Wildlife Health. The school is also home to the UT Tree Improvement Program, the Tennessee Champion Tree Program, and others. Its research and Extension projects aim to maintain and enhance the natural resources of Tennessee and beyond, making the new designation of a school a natural progression to many.
"The elevation of the department to a school reflects the importance of natural resources in the state of Tennessee and our efforts to bolster current research and Extension programs while also preparing students to succeed and lead in natural resource careers," says Keith Carver, UTIA senior vice chancellor and senior vice president.
Don Hodges, director of the School of Natural Resources, spoke to a crowd of students, faculty, and staff about the change at a celebration for the new school in January. "(This is) a recognition of the impact this program has had over the last sixty years to the state and beyond."
Hodges says former UTIA Senior Vice President and Senior Vice Chancellor Tim Cross proposed the change when the College of Agricultural Sciences and Natural Resources became the Herbert College of Agriculture in 2018. "I think the biggest reason for the proposal was to ensure visibility for our programs under the college's new name," Hodges says.
Hodges plans to keep the current school curricula and assess adding new programs, such as an undergraduate degree in outdoor recreation and a potential graduate degree program in bioenergy and bioproducts.
"We want to ensure we're producing graduates who have the knowledge they need to be successful in natural resources," Hodges says. He adds the school designation puts it on more competitive footing with other institutions for student recruitment along with research and development.
"The demand for education, research, and outreach programs from UT is more critical today than ever before," Tennessee State Forester David Arnold says. "School status will bring additional resources, capacity, and notoriety allowing UT to graduate more professionally educated and trained foresters."
Many graduates from the department now work for the state of Tennessee or organizations in the natural resources field. These stakeholders look forward to seeing School of Natural Resources graduates in the workforce.
Administrators and faculty hope their program's new designation as a school will bring more visibility to existing programs, such as the UT Wildland Fire Academy, while creating more opportunities.

School of Natural Resources director Don Hodges speaks to a crowd at the school's January launch celebration. Hodges says the designation recognizes the impact of the program across the past sixty years.

Kayla Stuart, who in May became a member of the school's first class of graduates, measures a felled tree during Fall Camp for Forestry Resource Inventory. Agencies and organizations who hire forestry and wildlife and fisheries graduates value how prepared they are for the workforce
"With the knowledge and practical experiences provided to forestry, wildlife and other natural resource students at the school, these young adults will be valued future leaders in Tennessee's forestry community," says Candace Dinwiddie, executive director of the Tennessee Forestry Association.
Those stakeholders, along with administrators and faculty members, also say the new school status will lead to more research projects addressing the needs of the state's natural resources and enhance an already successful forest landowner outreach program offered through UT Extension.
"Partnerships are critical in the conservation and wildlife management field," Jason Maxedon, Tennessee Wildlife Resources Agency executive director, says about the agency's partnership with the School of Natural Resources. He adds that being partners helps to advance research initiatives such as those focused on elk, turkey, and quail restoration; wildlife disease and health management; and human dimension efforts.
"We have a growing population in the state of Tennessee," School of Natural Resources instructor and certified wildlife biologist Chris Graves says. "We have growing demands and stressors on our natural resources, so (our new status) should give us opportunities not just to do the research, but to answer important questions and help us maintain our healthy natural resources."
Last year, the department received more than $35 million in grants for research and development including a $30 million grant from the USDA to help grassland farmers implement sustainable practices that improve their operations and stewardship of their land, and position them to enter the emerging carbon markets. Administrators and faculty expect to bring in more projects and grants with the new school designation.
"I think our elevation to school status will bring a lot of recognition, but also opportunity," says urban forestry professor Sharon Jean-Philippe. "It creates a touchpoint to partner with so many different organizations that we might not have had the opportunity to do."
UT offered its first forestry class in 1936. The Department of Forestry was later established in 1964. The unit changed its name to the Department of Forestry, Wildlife and Fisheries in 1977. Now forty-six years later, it has attained school status. Faculty, staff, and students hope the new designation will bring more opportunities and help the school to fulfill UTIA's mission of finding Real. Life. Solutions. for the state of Tennessee and beyond.
"I'm very excited about what the future holds for our new school," Hodges says, "and so are our students, faculty, staff, and alumni. We see great potential ahead."
---