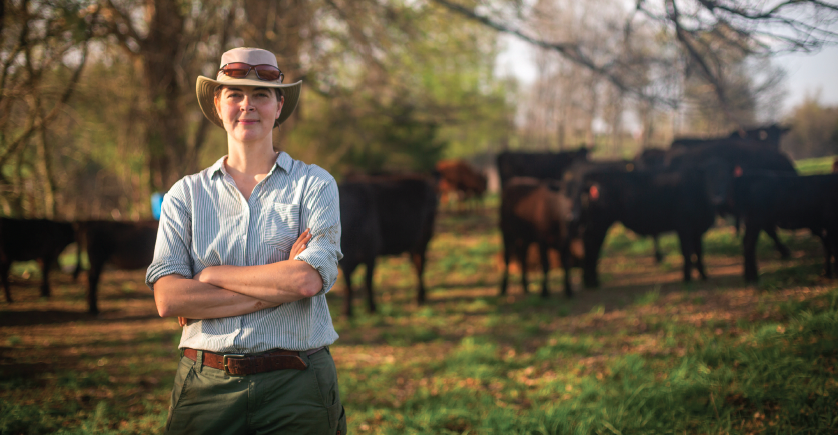 Say hello to a landscape architecture alumna who is re-envisioning her family's century farm
Wyn Miller would like you to join her on her journey to rethink how we farm.
For the 2012 landscape architecture graduate turned regenerative farmer, it is more than a moral imperative. It is a shift in perspective to not only maintain our food production for future generations but to also sustain a rural way of life.
"How can we fix this? I am very curious about that," Miller says.
Today she is chief operations officer of her family's century farm in rural Jefferson County, Tennessee, and at the forefront of its meteoric launch into the realm of regenerative agriculture. In addition, she is paving the way in the world of environmental consulting, specializing in climate-smart, intergenerational agriculture.
And it is the intergenerational piece where her passion lies. Growing up on this century farm meant Miller saw the shift in family farming. To be frank, when Miller's father first approached her and her three brothers about the idea of who might inherit their 900-acre farm, all four Miller children said no. It took an innovative shift to a multienterprise agriculture model for the younger Millers to get on board.
Today, Lick Skillet Farm is ensured to stay in the Miller family for another generation, unlike many of the neighboring farms. It is also structured in a way that work is segmented to professionals who thrive in that area, leaving Miller the freedom to utilize her expertise in pasture management, including decreasing hay consumption by more than 80 percent through good grazing management, while someone else manages the farm's 450 head of cattle. A team makes the direct marketing operation function, including pastured pork, lamb, and chicken. Regenerative practices range from silvopasture and nutrient cycling to high-density grazing with longer pasture rest periods.
Regenerative agriculture is more than just a buzzword for Miller. She joined the family business in 2020. At first, it was a welcome break with her twelve-year career in the world of landscape architecture. But it evolved into a new path that expanded on her experience in environmental land management and leaned into her jack-of-alltrades skillset. Miller realized she existed in a unique middle ground between those who speak the science and those with their hands in the soil, and that she was well-positioned to implement innovations. After all, she helped herald her own family's transition from a traditional farming model to one that uses cutting-edge regenerative practices.
"UT really set me up to be able to converse and traverse in a world of research and academia," Miller says.
Miller relies heavily on the language of science and the relationships she forged with professors at UT. The connections have allowed for a unique relationship where research by UT scientists can happen on Lick Skillet Farm, and Miller can bounce ideas directly with scientists.
"Weaving those things together has become my life's goal," Miller says. Her goal is to see farming not only feed future generations but remain a viable and vibrant career option for rural America.
---