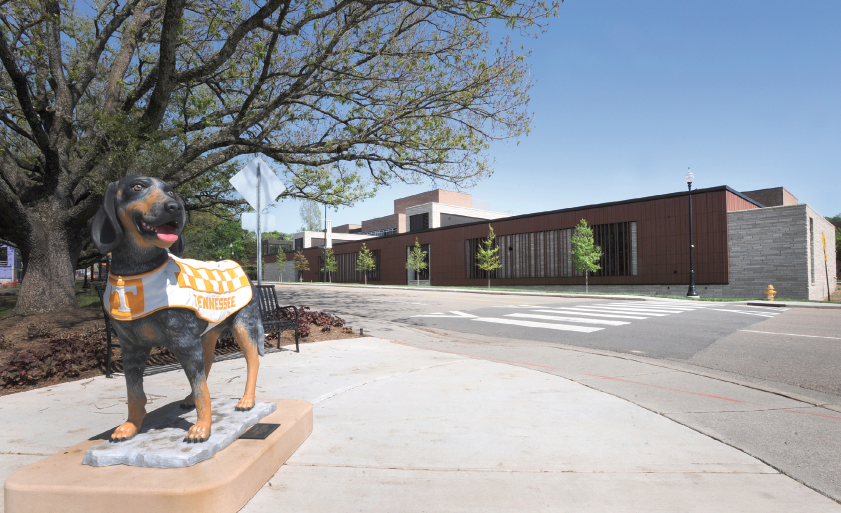 Providing Some TLC for Veterinary Instruction
Throughout the history of the UT College of Veterinary Medicine, faculty, staff, and students have been attracted to its emphasis on instruction, with attention to teaching, learning, and relationships. Even while the College has grown in size and complexity, teaching remains "Job One." Since admitting the first class of forty veterinary students in 1976, the College has grown to a class size of roughly eighty-five students in each of the four years of the program. While the John and Ann Tickle Small Animal Hospital and the Charles and Julie Wharton Large Animal Hospital have undergone additions and renovations over the years, last January's ribbon cutting on the Teaching and Learning Center signifies the first major expansion of instructional space in the veterinary College's history.
India Lane, professor of internal medicine and associate dean for academic and student affairs, recalls discussions at a faculty retreat two decades ago. "Faculty built a model and talked about what kind of space we'd like to have in the future. It felt like a pipe dream to talk about an area where people could gather, where there was a lot of light, and where we had state-of-the-art classrooms, dining areas and access to the outdoors, and eating areas—things important not only to instruction but also to student support and the learning environment we have across the whole College. Now we have it all!"
Costing roughly $10.9 million, the 20,000-square-foot Teaching and Learning Center adds a 130-seat lecture hall with a clinical skills simulation center and a modular 70-seat teaching lab on either side. The expansive concourse connecting these areas provides flexible meeting space and an inviting entrance to the Webster C. Pendergrass Agriculture and Veterinary Medicine Library.
There are no offices in the addition. It was built to educate, and the lecture hall was named for Ann and John Tickle, beloved UT alumni who have supported their alma mater for more than fifty years. They are committed to the importance and value of education. Ann, in particular, has a deep passion for the field; it was her academic major and the focus of her career. She launched Sullivan County, Tennessee's first Head Start program and taught Bristol, Virginia's first public kindergarten. She also starred as Miss Ann, host of the popular television show Romper Room in the 1960s and 1970s. Predating Sesame Street, the educationally based program taught children basic skills and encouraged young minds.
Jim Thompson, dean of the College of Veterinary Medicine, says the Teaching and Learning Center design enhances the educational environment of the College's professional students. He credits Bob DeNovo, a recently retired professor of internal medicine and associate dean for administration and hospital programs, with the project's success. "The College will be forever grateful for Bob's dedication and leadership in bringing this building to completion. I'm proud of this beautiful facility and look forward to the exciting educational opportunities it brings." Almost before the ribbons hit the floor at the January ribbon-cutting ceremony, veterinary students began utilizing the space to engage in clinical problem-solving and clinical skills development. The many nooks and crannies for informal study are popular with all UTIA campus students.
Jennifer Wayman, class of 2025, and her classmates watched the transformation from the ground up and were among the lucky ones to first call the Ann and John Tickle Lecture Hall their own this spring semester, one of the more difficult semesters of the college curriculum. She acknowledges the room might see many smiles and many tears alike as the students grow as individuals. Wayman says the College's sense of family among students, administration, faculty, and staff sets it apart from other veterinary programs. "I believe I speak for most if not all students when I say emotional, physical, and educational support is never hard to find within the walls of this college, and the Teaching and Learning Center is a growing part of our support system."
A welcoming environment, the Teaching and Learning Center provides opportunities to further build a sense of community, offering the students and the campus community a space to eat lunch, study, hold club meetings, and interact with their peers from the undergraduate and graduate programs. Wayman serves as the College's senior delegate to the national Student American Veterinary Medical Association. UTCVM will co-host the 2024 National SAVMA Symposium with Lincoln Memorial University College of Veterinary Medicine next spring. Veterinary students from across the country will have the chance to experience the advantages the Teaching and Learning Center offers.
The center's simulation lab, available 24/7, expands opportunities for education and training, providing a safe environment for veterinary students to prepare for clinical procedures, practice and develop their technical skills, and work on client communication strategies. Skills development and practice will be integrated into each program year and existing courses, with increased opportunities for practice and feedback with models, complex simulations, and virtual reality exercises. Simulation lab director Robert Reed has worked with anatomical models for years and now directs the simulation lab.
For Claire Bachman, class of 2024, access to simulated scenarios that mimic real-life situations builds her proficiency and confidence. "It's great to actually do the procedure yourself in the lab. You can learn so much more by hands-on doing rather than just reading a book or listening to a lecture."
The next few years will hold transformational change for the UTIA campus. Since graduating its first class in 1979, UTCVM has graduated more than 2,800 veterinarians. The increased space within the Teaching and Learning Center and the adjacent Energy and Environmental Science Research Building, under construction now and scheduled to open in January 2024, will position the College to increase student enrollment, add additional graduate students, and roll out a veterinary nursing program, helping to address shortages within the veterinary profession. The advancement in facilities and technology will allow the College to continue to train top-notch medical professionals who take an oath to benefit society by protecting animal health and welfare, preventing and relieving animal suffering, conserving animal resources, promoting public health, and advancing medical knowledge.
The Teaching and Learning Center was made possible with funds from the state of Tennessee, the university, and philanthropic gifts from John and Ann Tickle and other donors. The expanded educational space and day one hands-on training benefit not only the patients at the UT Veterinary Medical Center but also the patients in communities where students like Wayman, now in her second year of veterinary school, will one day practice. "We would like to shout from the summit of Rocky Top how thankful we are to the university, the designers, and the supporters who decided to invest in each in every one of us," Wayman says, "Your investment in our education will not be forgotten and we hope you feel our appreciation."
---