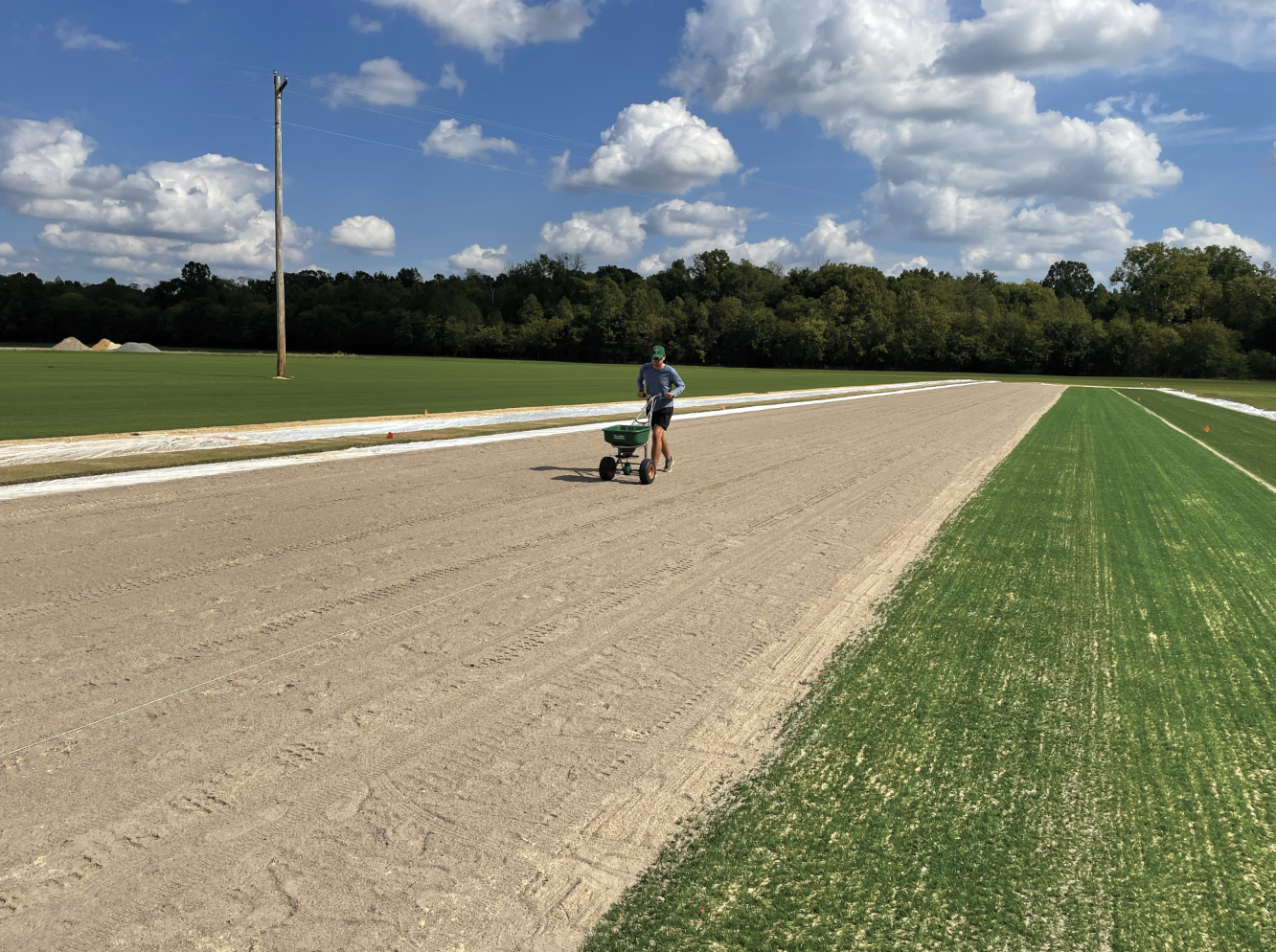 Turfgrass Students Score Big Opportunity Working on World Cup Field Research
Senior Ivan Navarrete, who grew up playing soccer in Loudon County, spent four months in Qatar working at the 2022 World Cup.
A lifelong soccer fan—and now a graduate student and research associate—Rhys Fielder of Knoxville spent six months interning with the grounds crew for his long-time favorite Arsenal Football Club, an English Premier League (EPL) professional soccer team based in London.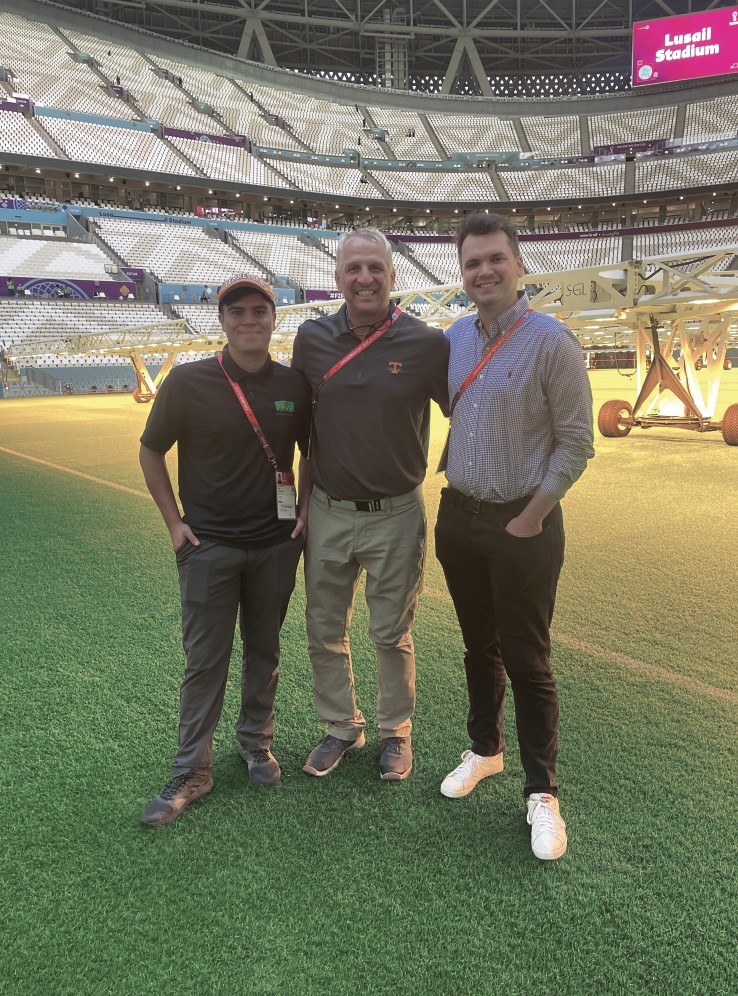 Research associate Taylor Williams, who played baseball at Lenoir City High School, recently completed his master's degree in plant sciences and did an internship with the Baltimore Orioles in 2015 while an undergrad.
These experiences, which have been part of their studies at UT, helped lead these three young researchers to discover their passion for the art and science of sports field maintenance. And now they are engaged in the biggest and most notable project of their young careers: helping to make the 2026 World Cup fields the best and safest ever.
It's an exciting opportunity. And it's going to look pretty good on their résumés.
Like other students working on the project, Navarrete, Fielder, and Williams are proteges of John Sorochan, the distinguished professor of turfgrass science and management in the Department of Plant Sciences, who is overseeing UT's team of faculty, staff, and students on the 2026 World Cup project. UT's team will collaborate with colleagues from Sorochan's alma mater, Michigan State University, on research to create and maintain the fields for soccer's greatest show.
The 2026 World Cup will be hosted by "United 2026," an alliance of the United States, Mexico, and Canada. The largest in FIFA history, the 2026 games will include forty-eight national teams, use sixteen stadiums and up to one-hundred-fifty practice fields, and stretch across four time zones and three climatic zones.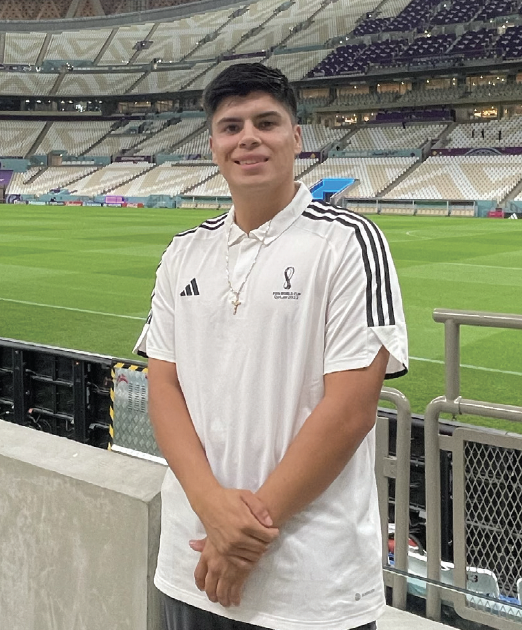 Ivan Navarrete
One of the expected ten or more students who will work on the 2026 FIFA World Cup project, Navarrete is a fifth-year senior in plant sciences.
He's already interned with the grounds crew at TQL Stadium, home of FC Cincinnati, a Major League Soccer club, and the Tottenham Hotspur EPL Football Club in London.
While in London, Navarrete got a call from Sorochan.
"He said, 'How would you like to go work at the Qatar World Cup?'"
For Navarrete, who had been a standout on the Loudon High School Redskins soccer team, it was a dream come true.
"You don't know where your career could go," he says, "But if it was up to me, I think I'd do athletic fields and focus on soccer."
Navarrete spent three months in Qatar. He was based at Lusail Stadium, one of eight stadiums built for the 2022 FIFA World Cup. Lusail Stadium hosted the World Cup
final between Argentina and France.
When Sorochan visited Qatar with soccer officials from Mexico, Navarrete—who is the son of Mexican immigrants and is bilingual—showed them around Lusail stadium. In the coming months, Navarrete will travel to Mexico to help with research on grasses to be used in 2026 World Cup stadiums in Mexico City, Monterrey, and Guadalajara.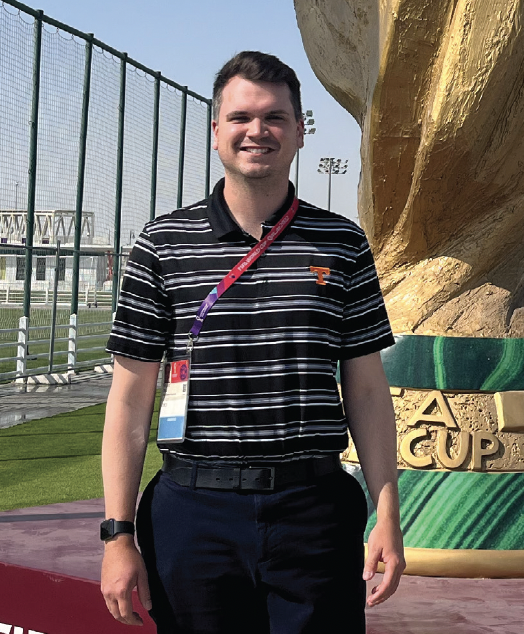 Rhys Fielder
Fielder discovered the world of turfgrass management while working part-time at Cherokee Country Club's golf course in Knoxville during his freshman year of college.
After completing his bachelor's degree in plant sciences at UT, he stayed on as a graduate student and began working full-time as a research associate.
During his studies, he's interned with grounds crews for two soccer teams—the New York City Football Club and his all-time favorite team, the Arsenal Football Club in England.
Though he was born in Georgia and raised in Knoxville, Fielder is a dual citizen of the US and the United Kingdom because his father was born in Aberdeen, Scotland. Before his stint with Arsenal, Fielder had only been to England twice. Working with Arsenal and learning from some of the UK's most renowned turfgrass experts were unforgettable experiences.
Now, on the 2026 World Cup project, Fielder will serve as a liaison with the Michigan State team, which will be doing turf research parallel to UT's. Instead of each school having to run multiple experiments to validate their results, they'll be able to cross-reference each other.
"We'll be able to replicate results by location rather than time," Fielder says.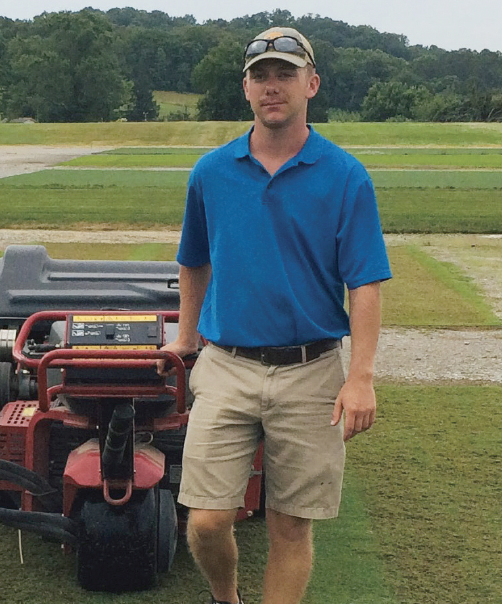 Taylor Williams
As a baseball player at Lenoir City High School, Taylor Williams never gave much thought to all that goes into maintaining a playing field until he began studying turfgrass.
Williams completed his bachelor's and master's degrees in plant sciences at UT and is now a full-time research associate.
For the World Cup project, Williams is researching grasses that will be used in stadiums across the three countries: bermudagrass (a warm-season grass) and Kentucky bluegrass, and a Kentucky bluegrass-ryegrass mixture (coolseason grasses).
He's also helping cultivate sod on plastic to create a "carpet" of mature, rigid grass with a short, but dense root structure. These sod carpets, used successfully in some NFL stadiums, allow for a quick installation of a ready-to-use, realgrass field.
And he's experimenting with technology— a giant sewing machine, of sorts—that stitches artificial fibers into live grass to create a more durable ground cover.
Right Place, Right Time
For Williams, Navarrete, and Fielder—three fledgling researchers building careers around the sports they love—working on the 2026 World Cup project is a game-changer.
"It's very exciting. When I started the turf program, I never thought I'd be working to put together the World Cup," Williams says.
Fielder says he expects the experience to provide "the backbone of my career."
And Navarrete says he feels fortunate to be associated with the MVPs of turfgrass.
"You say you're Sorochan's student, and people in the field say 'Oh, Sorochan!'" he says. "Realizing how big of a guy he is in the field, he's not only a blessing to his students, but also to UT."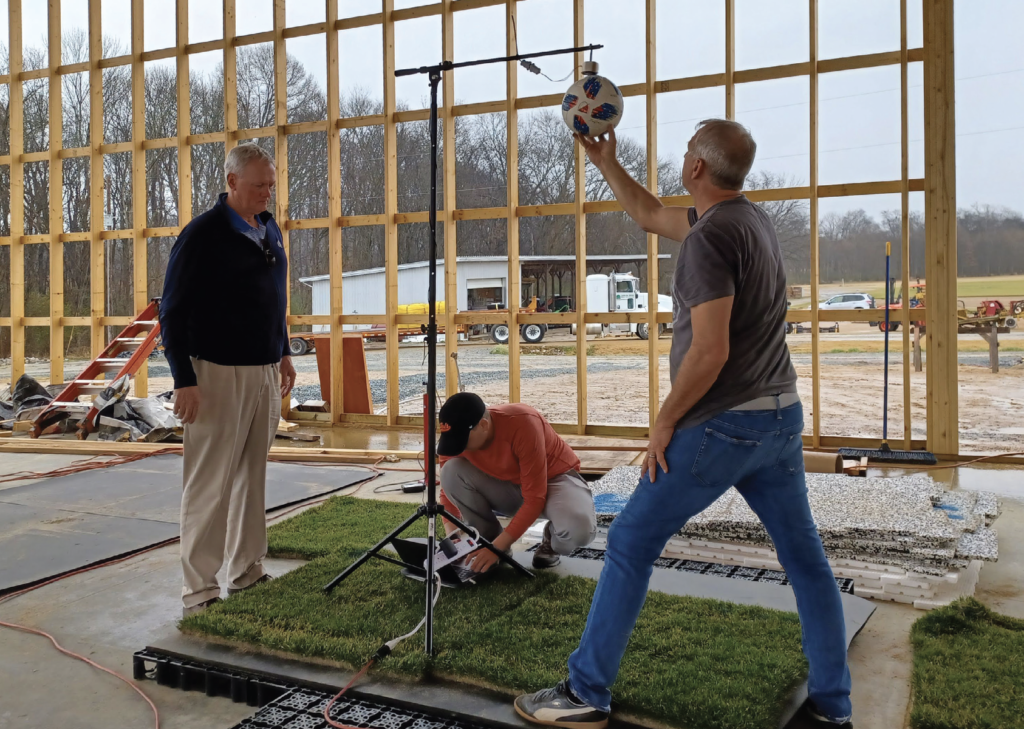 ---